We have had some extremely good sailors in our club who have over the years distinguished themselves in provincial and national competition including Olympic trials, and as judges and race managers as well. We aim for gentle excellence in sailing, conducting our races according to the latest rule changes with proper starts, well set courses and friendly but expert competition.

Awards History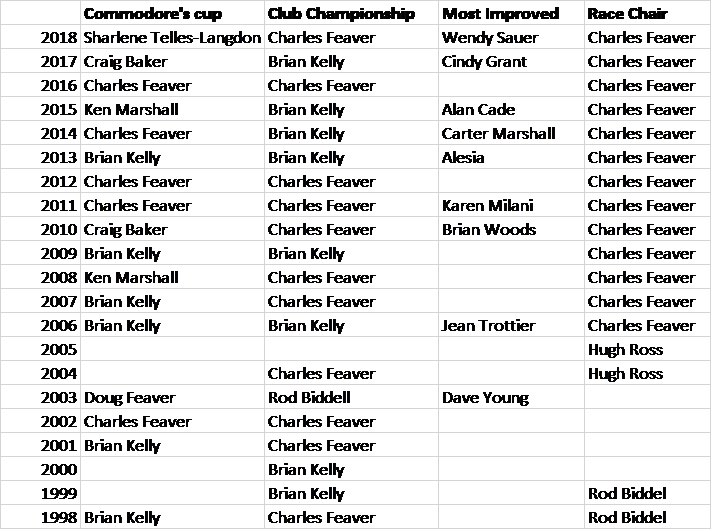 2018 FYC Racing Report
It was a better than average year, although our active sailing season was confined to just over two months; We raced from June 23rd to September 3rd.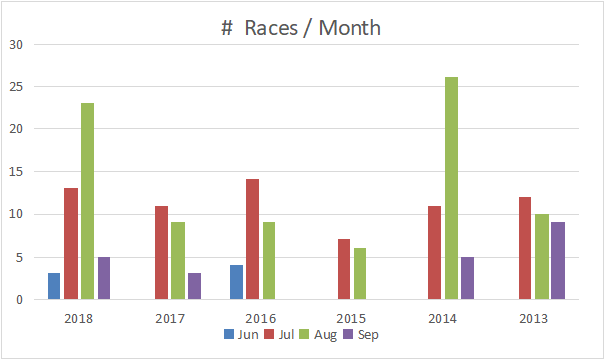 We held a total of 44 races in the dinghy series for the club trophy. 19 skippers started in at least one of those races. One skipper (Brian K) started in 36 races!
On average, we had 6 boats on the start line; the last weekend in July we had our strongest turn out; 10 boats on the line. August was our most active month by a long shot.
Seven of the 19 skippers racing are women; a number that is gradually building year over year. For the first time, a woman won our Commodore's cup when Sharlene Telles-Langdon sailed her Laser Radial to victory.
In addition to the club series, we held two days of races for keelboats and cats, which successfully encouraged additional sailors to skip and participate in racing.
It was nice to have the big rescue boat working and docked in the canal; it is easier to launch & dock, it provides a better working space for placing & retrieving the buoys, and it handles the rough water better. Huge thanks to Dave for getting that motor going again. My only concern is that it is unpredictable to start, although spraying with Quickstart does ultimately work every time.
Most Improved Sailor
For making a steady progression from learning the basics in the Optimist to racing her Laser Radial in a wide range of winds, all in one summer; Wendy Sauer. Amazing.
Falcon Championship: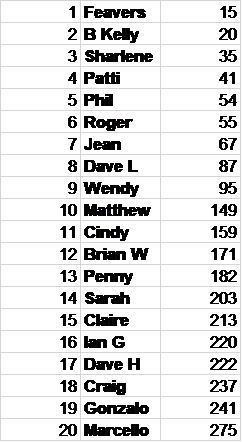 FYC 2017 Racing Report
We had a wide variety of weather conditions on the weekends. We had successful "fun" racing days, and we had eleven days of races that count toward the club championship. We had a slow start to the year; no races in June, seven in July, three in August and one in September.
We held 23 official races, which is a relatively low number for recent years. A total of 19 skippers sailed in at least one race, which is a great turn-out.
Running the races went smoothly; thanks for everyone's help.
The Penguin Camp Championship Trophy
The Low Point scoring system of Appendix A for "series longer than a regatta" (Rule A9) will apply to all official club races completed in the year, of which 15 races will be required to be completed to constitute a series. A boat's series score will be the total of her race scores, excluding her 16th best score and all those below it [quoted from our Blue Book].
The Kellys sailed on all the racing days, and both Roger and Patti sailed at least 15 races . Those who sailed less than 15 races scored 20 points in the races they didn't start in, based on 19 boats competing in the scoring for this trophy.
Results for 2017
| | | |
| --- | --- | --- |
| B Kelly | 25 | 1 |
| Roger | 36 | 2 |
| Patti | 68 | 3 |
| Jean | 73 | 4 |
| Feavers | 110 | 5 |
| Merlin | 159 | 6 |
| Collette | 167 | 7 |
| Dave L | 208 | 8 |
| Dave H | 210 | 9 |
| Sharlene | 220 | 10 |
| Craig | 226 | 11 |
| Gonzalo | 239 | 12 |
| Cindy | 240 | 13 |
| Andrea | 253 | 14 |
| Dave Fr | 255 | 15 |
| Matthew | 263 | 16 |
| Sarah | 265 | 17 |
| Ian | 270 | 18 |
| Penny | 270 | 18 |
Most Improved Sailor:
Winner of the Most Improved Sailor trophy for 2017: Cindy Grant
FYC Race blog 2015-2018: